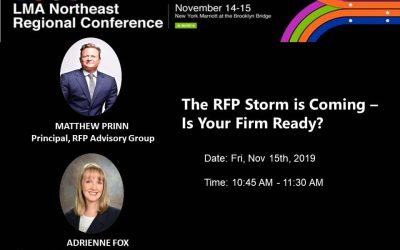 Matthew Prinn was selected to present at the 2019 Legal Marketing Northeast Regional Conference. Mr. Prinn will be presenting a program entitled: "The RFP Storm is Coming - Is Your Firm Ready?" The program will be Fri, Nov 15th, 2019 at 10:45 AM - 11:30 AM, to...
Insight, Experience, Results
---
Trust RFP Advisory Group to manage your RFP and ensure that you get optimal value for your dollar. Contact us today.
Tags: rfp blog corporate rfp services legal rfp examples legal rfp documents