Competitive Advantages for Law Firm Practice Groups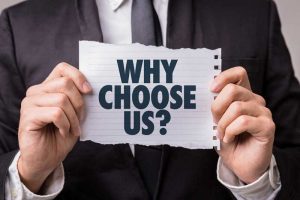 Identifying the law firm's value proposition is one of the most important things a practice group should focus on. The full group, from partners to associates to legal assistants should all have a clear understanding of what are the competitive advantages of your practice group's services. This value proposition should be customized to the client/target depending on the size of the company, the industry and its business goals.
In the Altman Weil 2018 Law Firms in Transition Survey, its notes that "50% of law firms do NOT believe they project a distinct, compelling value that differentiates them from competitors." (see below chart).
Practice group chairs, in collaboration with the marketing support team, should make this a priority and prioritize this as an initiative to tackle. Each firm or practice group should be able to provide at least 3 bullet points as to why they are the best selection for a proposed matter or panel selection.
Some competitive advantages for a practice group might be:
We have offices located in all major financial centers across the globe which allows us to more efficiently handle your cross-border matters.
We are located in a low-cost region of the world – so we are able to produce the same results using a lower cost staffing strategy
Our team of lawyers have specific expertise in this technology and in front of this Judge so we can guide the client through the matter better then our peer firms.
We are a boutique firm that only focus on this specific type of law, and we use that expertise to execute better legal strategies. 
We have former regulatory officials on our team which allows us better insight on goverment matters. 
We focus soley on matters in this industry, we know all the key players and the latest trends impacting companies. 
We have a unique project management system for these types of matters – which will allow us to provide a fixed cost for the matter and use historical data to prepare our strategy. 
For example, say part of your value proposition is that you have offices in key financial centers in the US and Europe which benefits the client by not having to hire two firms. Then you shoud have language that describes a similar matter that you did for a client where this advantage was used for the benefit of the client. The language should tell a story of how the firm's competitive advantage helped the client complete a matter "better" (faster/cheaper/better legal result, etc) then had the client hired a different firm. People remember stories more then marketing jargon. 
A good exercise for law firm practice groups to do is to have each partner, provide a 30 second iphone video describing what they think is the practice group's value proposition. Collect the clips and play them all at a practice group meeting. Fine tune the best approaches and come up with a one page "sales" sheet for each lawyer that they can refer to throughout the year. These vaue proposition themes can be used in pitch proposals, legal directories (Chambers/Legal 500) and in lateral recruiting meetings. You need to treat each practice group like it's own business, and every business needs to know what they do best and why they are best choice to buyers of legal services. 
Matthew Prinn is a principal with RFP Advisory Group and can be reached at [email protected].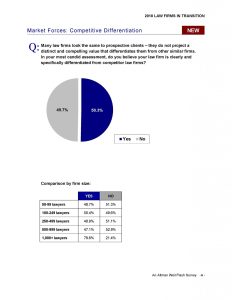 Source: 2018 Altman Weil Law Firms in Transition Survey 
---
Insight, Experience, Results
---
Trust RFP Advisory Group to manage your RFP and ensure that you get optimal value for your dollar. Contact us today.