Matthew Prinn, the principal of RFP Advisory Group, a consulting firm that specializes in RFPs for the legal industry. He discussed key trends in how corporate legal departments are using RFPs, the biggest mistakes law firms make in responding to RFPs, and how RFPs and related technology are evolving. 
The Reinventing Professionals podcast is designed to offer ideas, guidance, and perspectives on how to effectively navigate a perpetually shifting professional landscape, with a unique focus on the legal industry and the technology that is driving its evolution.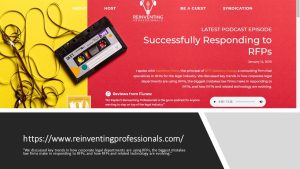 ---
Insight, Experience, Results
---
Trust RFP Advisory Group to manage your RFP and ensure that you get optimal value for your dollar. Contact us today.